Debut Album - 'Direct Message'
I'm excited to announce that my debut album was released on Orchid Classics this October!
The disc features the world premiere recordings of Giles Swayne's Sangre Viva and Deborah Pritchard's Seven Halts on the Somme, as well as the first ever recording of a new commission by composer Alex Woolf entitled Direct Message. I have also revived forgotten works of the 20th and 21st centuries by Jacques Castérède and Raymond Gallois Montbrun, alongside staples of the trumpet repertoire such as Enescu's Légende and Peter Maxwell Davies' impressive showpiece, Sonata for Trumpet and Piano Op.1.
I primarily wanted to display all sides of the trumpet from lyrical to virtuosic, experimental to technical on my debut album - I hope to provide listeners with an exciting and interesting journey through a variety of works for trumpet and piano.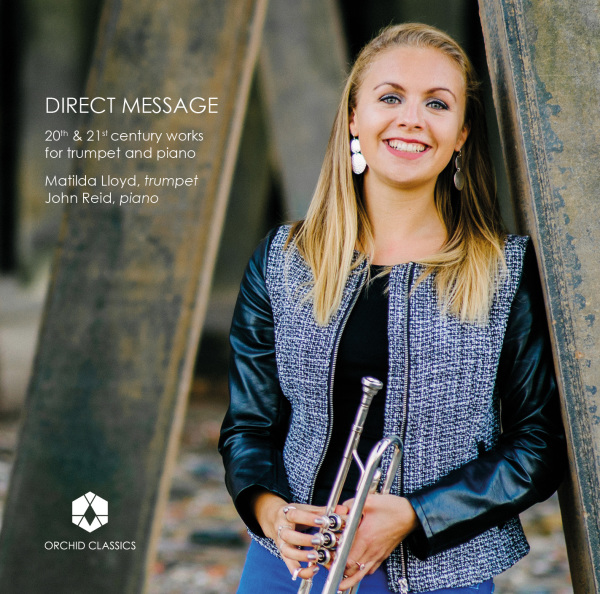 ​​​​​​​​​​​​​

Track list:

 
Sonata for Trumpet and Piano Op.1, Peter Maxwell Davies (1955)
1.         i) Allegro moderato
2.         ii) Lento
3.         iii) Allegro vivo 
 
4. Sarabande et Finale, Raymond Gallois-Montbrun (1949)
 
5. Direct Message, Alex Woolf (2018)
 
6. Légende, Georges Enescu (1906)
Seven Halts on the Somme, Deborah Pritchard (2014)
7.         i) The Grand Mine
8.         ii) Trônes Wood
9.         iii) Flatiron Copse
10.       iv) Guillemont to Ginchy
11.       v) The Sucrerie: Longueval
12.       vi) Pozières: The Moulin
13.       vii) Warlencourt Ridge 
 
Sangre Viva, Giles Swayne (2003)
14.       i) Dark
15.       ii) Sueño
 
Sonatine, Jacques Castérède (1953)
16.       i) Allegro energico 
17.       ii) Andantino
18.       iii) Rondo - Allegro giocoso

 - Classical Music Magazine
​Recording News Section of September Issue:

​"

The latest landmark in matilda lloyd's burgeoning career sees her championing rarely-performed repertoire"